Traditional Absinthe Fountain Unboxing, Review and Other Thoughts
Traditional Absinthe fountain review, unpackaging and other thoughts
I just received a special package to my door. I had been eagerly expecting this, and although it arrived pretty quick, in only two days by DHL Express Delivery, I felt I could not wait any longer. My new traditional absinthe fountain had arrived. Feels like Christmas.
I purchased it online form the good folks of originalabsinthe.com, which was actually a no brainer; these guys know their stuff; their customer service is great, and they make sure you know all there is to know before placing an order. I'm a picky buyer, especially when it comes to my biggest passion: absinthe and everything there is about it.
You see, I'm a collector of sorts, I've been tracking down absinthe and green fairy memorabilia since I can remember, and you might think all stores are the same, but they're not. No complaints here, Original Absinthe has been by far my favorite supplier for both absinthe liquor and accessories.
I had the right to be worried. I guess you don't buy glass things online very often, me neither. I'm pleased to inform you my absinthe fountain got to me unharmed. All pieces were carefully packed individually, protected by shaped styrofoam, and all tucked in a hardy, brown unmarked box.
Before I tell you all about my new piece, I'll run you through the buying process. The website is easy to browse. There's a header menu with all the store's categories. I just clicked on absinthe fountains and picked the biggest, fattest one: The Traditional Absinthe Fountain for £134.99, a discounted price from an original £149.99.
I recommend you create an account, it's easier to track the items you're interested in (I had plenty) in the shopping cart, and the paying process is faster. I did contact customer support both by mail and phone calls to clear up a few questions, but I won't bother you with details, they were quick to respond and had all the right answers. I ordered my absinthe fountain that same night.
Now, about the fountain. I'm looking at it right now, it's my living room's centerpiece. I can tell ya it's a beauty! With the lid, it's 20.5 inches tall. The body is made from brass, but it's silver-hued because of a chrome plating. It's an exact reproduction of old absinthe fountains from the golden era, pretty standard compared to the other lady-shaped fountains they sell in the site, but still beautiful. I haven't weighed it yet, but it has a solid, hefty feel to it — high-quality stuff.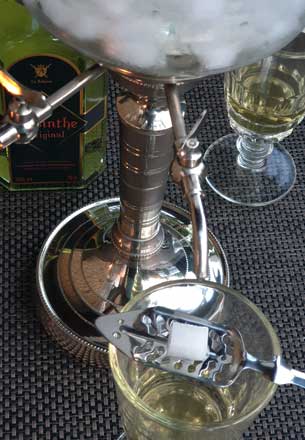 My fountain has four metal faucets, and there's plenty of room below each of them for every glassware I've tried, even some slim, stemmed, 8 inch blown glasses I bought in Prague a while ago, and which I like to use now and then.
This is not my first time in the rodeo, I had an absinthe fountain before, but it dripped unevenly. The one from Original Absinthe drips just fine, more than fine, I'd say! A slow, even pour, from all spouts, at the same time.
My order came with other goodies I just had to buy, but I'll tell you all about them in a minute. The box also comes with an absinthe booklet and a list of cocktails, a nice detail.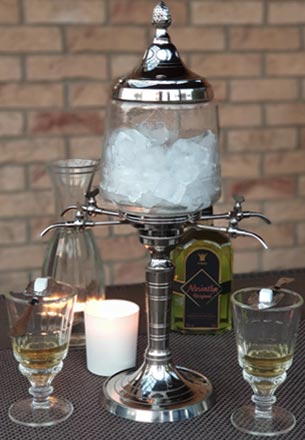 I came from work early to try my new fountain. I stretched for my bottle of King Gold bohemian-style 70% absinthe (because it is the only absinthe close to pre-ban). Let me tell you, this is the good stuff; I've tried lots of absinthe in my days and King Gold is at least in my top three. Browse the absinthe section on the Original Absinthe website to get yours, recently they're my go-to suppliers for real absinthe.
Anyway, I filled my fountain's mouth-blown glass bowl with ice water from the fridge. I placed two glasses beneath the spouts, placed my new absinthe spoons with a sugar cube (more on those spoons later), and poured on. A gentle, steady drip watered down my favorite absinthe to drinkable alcohol levels (I love absinthe, but I'm not crazy to drink it straight!).
As expected, aromas opened up nicely, as it all blended smoothly. If you try this, you should know that bohemian-style absinthe, like my bottle of King Gold, doesn't louche as much, which is the color change everyone's expecting while using an absinthe fountain. This style of absinthe has a lower sugar and anise compared to Spanish and English styles, which is a reason for me to love it.
So, what's the verdict? This fountain works very well, it's a fine piece indeed.
Now, about the rest of my order:
With my absinthe fountain, I got myself two sets of Absinthe glasses (2 each) that come with their own set of absinthe spoons that's four glasses and four shiny spoons to add to my collection.
The glasses, like my fountain's bowl, arrived in perfect shape. For £25.99, the last time I checked, these glasses are a bargain. I have several others as home and aren't as lovely as these.
These are called Pontarlier glasses, which are sturdy and heavy. Pretty resistant but detailed and classy. I read they're made with a mold inspired in the original early 1900s glassware by La Rochere glass company.
The reservoir at the bottom is useful to measure absinthe for cocktails: That's a 1/3 oz pour. The total capacity is 8.5 oz, which is quite enough to sip over a nice talk with friends.
The spoons are beautiful reproductions too. These are called Toulouse Lautrec spoons and have a beautiful design. I actually prefer my Les Cuilleres spoon, which makes it easier to stir your drink while still being useful to drip your sugar cubes down, but I only have one of those and my new Lautrec spoons I bought for get-togethers with friends and our spouses.
In a nutshell, I'm quite pleased with my order and plan to get other stuff from Absinthe Original soon. Be careful of other sites that sell absinthe memorabilia that doesn't actually work.
Now, my Grain of Sand: This is my Advice for you if you Plan to Start or Grow Your Absinthe Collection.
1. Get yourself an absinthe fountain; you can't properly dilute your absinthe without it. For starters try the two spouted one.
2. Now that you have an absinthe fountain, use it! Throw away the box and place your piece where everyone can see it. I never used my old fountain because it was stored up in the attic.
3. Dry your fountain after each use and clean it only when necessary. Run warm water through the spouts and never use soap.
4. Don't use your fountain to make batch cocktails. It's tempting, I know. The green fairy is a jealous little creature, and your ice water will never taste pure again, trust me, you'll know.
5. It'll take some time until you find the right amount of water for your absinthe. We all have different tastes. Also, every absinthe is different. But what seems like a burden is actually the fun part.
6. Teach your friends and family about absinthe; you'll be surprised how many myths and misinformation is out there. I get together wish friends once a week, and we all talk absinthe. The group is growing!
Thank you for the time, I take my reviews seriously, especially when it comes to absinthe. I just ordered a bottle of Couperose red absinthe; I'll tell you guys all about it soon.
Leave a Comment
Leave a Reply
Please
login
to post a comment.