Xmas Gifts for the Absinthe Lovers and a Special Guest for New Year's Party: The Green Fairy
We can all feel it; the holidays are around the corner. Malls have already rolled out their Christmas carol playlists, which means it's time to jot down our gift list at the rhythm of Jingle Bell Rock. You know we've all been kinda naughty this year, but that doesn't mean we can't get ourselves and our loved ones something nice and unique.
We at Original Absinthe believe that absinthe is a wonderful gift, it's not only a noble spirit full of history, mythology, and tradition, but it's also a lifestyle.
Absinthe is never just a drink; it always comes with a good conversation. Pouring absinthe is an engaging, almost ritualistic way of showing people you care about them, it's an opportunity to teach people about something new, something you're passionate about. Absinthe, my friends, is drink culture at its finest.
We've put together a list of unique gift ideas, absinthe gifts for him, and her (you know who we're talking about.) Browse our list and take your Christmas shopping to another level, make of this holiday season one full of absinthe parties and green fairies.


Special Absinthe Party Sets
Let's start with the essentials, a set of authentic absinthe, because not all absinthe is the same, and learning to appreciate their subtle differences is part of the enjoyment.
Two large 700ml bottles of La Boheme Absinthe Original with 15mg of thujone, bottled at 70% ABV is as real as absinthe gets. Great absinthe for the inexperienced, this set has "absinthe party" all written over it.
This delightful absinthe with a solid anise backdrop, with hints of licorice, lemon rind, spearmint, and dried flowers, is a real treat. The botanicals are beautifully layered, and the palate is rich. A chrome-plated absinthe spoon makes it a perfect beginner set and an ideal stocking filler for Christmas.
The only thing better than two bottles of absinthe is a four-bottle set. Two large La Boheme Absinthe bottles, a 500ml bottle of Staroplzenecky Absinth bottled at 64% ABV, a small bottle of the intriguing Innocent Absinthe and a chrome-plated serving spoon.
There are plenty of absinthe sets, of all sizes and prices. These are all well-though gifts that, trust, us, will be very much appreciated.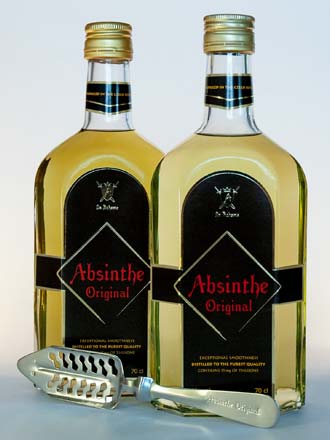 Absinthe Original Luxury Box
If you really want to make a statement, have a look at this Luxury Gift Box. A pretty, green, velvety box, assembled by hand by the knowledgeable staff at Absinthe Original.
A bottle of Absinthe Innocent, a stunning crystal absinthe glass, a shiny, stylish absinthe spoon, sugar cubes, and matches. This absinthe starter set is looking stunningly beautiful.
We know, you want this gift box for yourself, but hey! You've worked hard all year, and you deserve a gift too. No, really, this is a well-thought gift that will make people thrilled, even if they have little experience with absinthe.
This is not a bottle of booze; this is history right here, it's knowledge. These are the gifts that show people you've put some thoughts on your gift list. It looks good under the tree too.
Include with Luxury Box a personalized absinthe pouring session, share your knowledge. After all, you know that preparing the perfect glass of absinthe is as enjoyable as drinking it.


The Finest Absinthe with Wormwood
Now for the connoisseurs. Perhaps there's a special someone in your gift list; maybe you need to impress the big boss; who knows, you might be in a position where you really have to deliver. It's time to take a peek at the big guns.
For one of the most exceptional absinthe experiences available, go for a bottle of the good stuff. The Absinthe, King of Spirits Gold, is a Czech absinthe, which is a unique style quite different from the French redemptions of the classic liquor.
The fragrance is subtle, it's never cloyingly sweet. This absinthe is balanced in a way that only seasoned drinkers can enjoy at its fullest.
On the technical side, this absinthe has 100mg of thujone, the active component of absinthe that caused, ignorantly, the bad reputation of the green muse. This is the real deal.
This absinthe sets the standard for the whole drink category, and it's a beautiful addition to any collection — the ultimate absinthe gift.
Gift yourself an authentic taste of absinthe or make your Christmas dinner or New Year's Eve party one to remember with a bottle of King of Spirits Gold.


Absinthe Fountains, Beautiful and Useful
Last but not least, remember that enjoying absinthe is a social experience; it's best when shared around an authentic, absinthe fountain.
Original Absinthe offers a wide range of metal absinthe fountains. These are not toys; they work and are made to last.
Whether you buy a two-spout fountain or the authentic four-spout one, you'll be hosting the most amazing parties in your building.
These pieces look the part, they're fantastic additions to your living room and are excellent conversation starters.
Absinthe is all about sharing knowledge; it's about coming together to craft the perfectly diluted and sweetened glass of absinthe, together, as a team.
Your home will become the meeting point for get-togethers and home parties, guaranteed. An absinthe fountain does all of this and more.
Christmas Eve will never be the same, and if one of your friends is lucky enough to get one of these, you know you've changed their lives for good; absinthe is culture, and culture is the best gift you can give.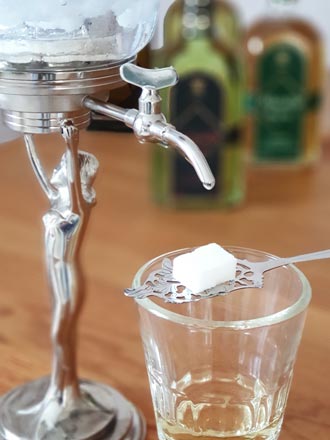 Stay Connected for More Inspiration
We're sure we've got you inspired for your next holiday shopping spree. Original Absinthe's got your back. Receive on time your absinthe bottles and absinthe memorabilia, all guaranteed.
Bookmark our online store and make sure you sign for our newsletter to receive special offers and news. Follow us on social networks and be part of our Absinthe community!
Leave a Comment
Leave a Reply
Please
login
to post a comment.