Absinthe At The Movies - The Most Extensive List Of Movies With Green Fairy
Alfie
Year: 2004
Director: Charles Shyer
Runtime: 103mins
Certification: UK 15, USA R
Genre: Romantic comedy
Tagline: What's it all about?
Plot
In the remake of this 1966 classic that shot Michael Caine to stardom, Jude Law plays Alfie, a sexually promiscuous chauffeur, who dedicates his life to seducing women. Transposed to modern day New York, we think this film is that rare thing - a remake that manages to improve on the original. Also starring Sienna Miller, Susan Sarandon, Marisa Tomei and Jane Krakowski, Alfie is a romantic comedy well worth seeing.
With a little help from absinthe Susan Sarandon's character seduces Alfie (Jude Law), poor hapless Alfie, in this 2004 remake of the 1966 Michael Caine classic movie.
Alfie is a gorgeous chauffeur who's playing to his strengths (British accent, body to die for) with the women of Manhattan, but inevitably he starts getting tangled up along the way. The 1966 version was ground-breaking in its look at 60s sexual liberation, while according to critics this remake is most notable for giving girls plenty of ogling time for the charismatic Jude Law.
Black Books
Year: 2000-2004
Director: Dylan Moran
Runtime: 30mins (18 episodes)
Certification: UK 15
Genre: Comedy
Plot
Despite the fact that Bernard Black hates customers, especially the sort who like to buy books, Bernard runs his own bookshop. The Nifty Gifty gift shop next door is run by his best, and probably only, friend Fran. When Manny comes to work for Bernard, surreal adventures ensue.
In 'The Big Lockout' episode of this British comedy series the character Manny gets locked in a shop and consumes an entire bottle of absinthe as a substitute for water. He suffers nothing worse than a hangover, despite his friend Bernard Black commenting dryly earlier in the episode, "What do they say? Absinthe, the drink that makes you want to kill yourself."
Bright Young Things
Year: 2003
Director: Stephen Fry
Runtime: 106mins
Certification: UK 15, USA R
Genre: Comedy/Drama
Tagline: Sex. Scandal. Celebrity. Some things never change.
Plot
This movie focuses on the lives of a young novelist, his potential lover and their glittering social circle in London in the 1930s.
It's based on Evelyn Waugh's novel Vile Bodies.
A group of 1930s bored young party-goers spend this film hanging out together, drinking absinthe and self-obsessing. Bright Young Things was directed by Stephen Fry in 2003.
Carnivale
Year: 2003-2005
Director: Daniel Knauf
Runtime: 60mins (24 episodes)
Certification: USA MA
Genre: Drama/Fantasy/Mystery/Thriller
Tagline: Into each generation is born a creature of light and a creature of darkness.
Plot
America is suffering. It's the Great Depression, the Dustbowl. It's 1934. A shady fugitive joins up with an even shadier travelling carnival.
With a blind mentalist, a bearded lady and conjoined twins, there's never a dull moment at the Carnivale. But will good or evil prevail?
Absinthe is drunk by the mysterious blind seer Professor Lodz (played by Patrick Bauchau) in the HBO television series Carnivale.
Coronation Street
Year: 1960 - Present
Director: Neil Alderton
Runtime: 30 mins
Certification: UK PG , USA TV-PG
Genre: Soap/Drama
Plot
'Corrie' is the UK 's longest-running TV soap. It focuses on the everyday lives of a street-full of people in Manchester, England.
Betty Williams (nee Preston, previously Turpin) of Coronation Street turned to the absinthe in consecutive weeks. Spooky.
CSI: Crime Scene Investigation
Year: 2000 - Present
Director: Anthony E. Zuicker
Runtime: 60 mins
Certification: UK 15, USA 14
Genre: Crime/Drama/Mystery/Thriller
Tagline: Brace yourself for a killer season.
Plot
An elite team of police forensic evidence investigation experts work through cases in Las Vegas.
The following extract comes from the episode entitled 'Suckers'. Fans everywhere sing the praises of the writers' superhuman talent at churning out gripping plot after gripping plot, without the show ever getting stale. Maybe that's because they make stuff up: "toxic byproducts are released during the distilling process"? No they aren't. Absinthe may have hallucinogenic effects due to its wormwood content, but it certainly isn't 'toxic'. We hate to nitpick though; it's a great show.
CATHERINE: Are Angela's tox results in yet?
GREG: Blood alcohol level of .14 percent.
CATHERINE: Her friends didn't say anything about drinking.
GREG: Well, I'm just getting warmed up. Tox panel detected traces of thujone. Thujone is the psychoactive chemical found in absinthe, a liquor distilled from wormwood.
WARRICK: Isn't absinthe illegal?
GREG: In the US. Banned in 1912. Apparently, toxic byproducts are released during the distilling process. Stuff's supposed to make you a little crazy.
CATHERINE: And how would Angela get a hold of this?
GREG: Well, this is not coming from personal experience, but according to a friend of a friend of an acquaintance, absinthe is rumored to be served in certain underground clubs.
WARRICK: Like a blood bar.
Deceiver (UK: Liar)
Year: 1998
Directors: Jonas Pate, Joshua Pate
Runtime: 106 mins
Certification: UK 18, USA R
Genre: Drama/Mystery/Psychodrama/Suspense/Thriller/Murder/Cops
Tagline: There are two sides to every lie
Plot
Walter Wayland (Tim Roth) has had the most perfect upbringing. He was educated at Princeton and has now taken over the family textile mill; he's heir to a fortune.
But perhaps he's not as stable as he seems. A prostitute acquaintance of his has been brutally murdered; when questioned, Wayland blames absinthe and epilepsy for his memory lapse.
Detectives Kennesaw and Braxton put him to the polygraph test, and the results send them all on a violent game of cat-and-mouse.
Is he guilty or not?
Absinthe gets embroiled in the plot of the nail-biting movie Deceiver (1997).
Tim Roth's character, James Walter Wayland, suggests that his recent consumption of absinthe is to blame for his memory problems.
This is why he can't really remember his brief encounter with Elizabeth Loftus, a prostitute played by Renee Zellweger.
The police tell him to rack his brains - the girl has just been found cut in half and shoved into two bloody packages.
Dracula
Year: 1992
Director: Francis Ford Coppola
Runtime: 130 mins
Certification: UK 18, USA R
Genre: Horror/Romance/Drama/Thriller
Tagline: Love never dies
Plot
Francis Ford Coppola's version of Dracula is closely based on Bram Stoker's classic novel of the same name. Young lawyer Jonathan Harker visits Eastern Europe to complete the sale of a London property to the mysterious Count Dracula.
Unfortunately he is captured and imprisoned by the count who turns out to be an undead vampire.
Dracula then travels to London, inspired by a photograph of Harker's betrothed, Mina Murray.
In Britain, Dracula begins a reign of seduction and terror, draining the life from Mina's closest friend, Lucy. Lucy's friends gather together to try to drive Dracula away.
Dracula seduces his reincarnated wife Mina over a glass of absinthe, 'Absinthe is the aphrodisiac of the self. The green fairy who lives in the absinthe wants your soul. But you are safe with me.' This is pretty rich coming from the man who has just raped and drank the blood of her best friend.
Francis Ford Coppola places his 1992 version of the Dracula legend in 19th century London, with Gary Oldman as Prince and Winona Ryder as Mina Murray.
Fun fact: the absinthe spoon used in Bram Stoker Dracula was authentic, it was on loan from the Absinthe Museum in France and was over 100 years old.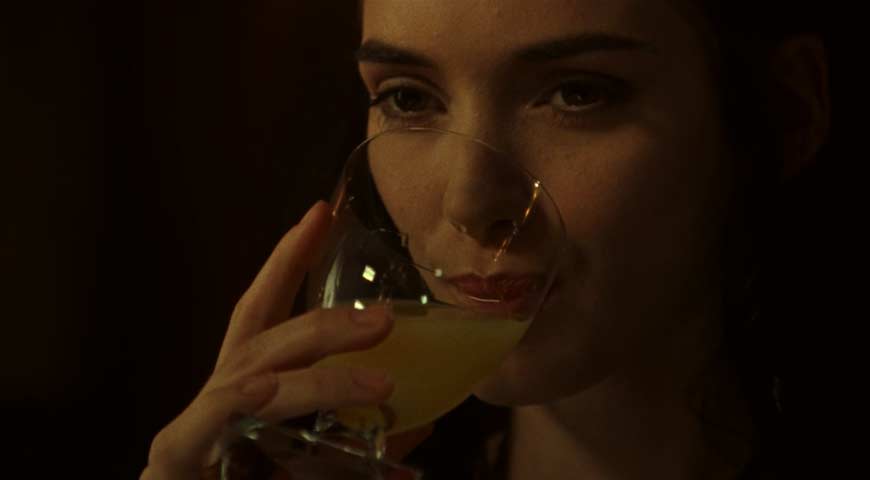 Emmerdale
Year: 1972 - Present
Director: Kevin Laffan
Runtime: 30 mins
Certification: USA TV-PG
Genre: Soap/Drama
Plot
Farmers, villagers and gentry tussle for social and economical success in this UK soap based in Yorkshire, England.
Diane Sugden of Emmerdale turned to the absinthe in consecutive weeks. Spooky.
Eurotrip
Year: 2004
Director: Jeff Schaffer
Runtime: 96 mins
Certification: UK 15, USA R
Genre: Comedy
Tagline: No actual Europeans were harmed in the making of this film
Plot
Scotty Thomas and his Berlin-based email penpal Mieke have been writing to each other for years when Mieke makes a cyber pass at Scotty inviting him to Germany. Scotty initially freaks out, not realising that in Germany Mieke is a girls name!
By the time Scotty figures out that Mieke is a girl, and a hot one at that, she has cut off all contact with him. Thinking that this might be his one chance at true love, Scotty and his best friends embark on a raucous trip across Europe headed for Berlin. Along the way, absinth is consumed and hilarity ensues!
The three actors who played getting drunk on absinthe in Eurotrip seemed pretty unimpressed by our emerald nectar.
They should really do a little research before they pass judgment - absinthe does not have, and I quote, "worm turd" in it.
Interviewer: Did you try absinthe?
JACOB PITTS: No, we wussed out.
SCOTT MECHLOWICZ: I did not wuss out. I tried it. I managed to get a little in. [It was] nothing special. Nothing as bad as what happens in the film. It's more just like having bad tequila.
JACOB PITTS: Well, what they sell now basically gets you drunk in one shot or something, but what I understand is the famed absinthe has like worm turd in it.
SCOTT MECHLOWICZ: Yeah, all I managed to do was light my table on fire when I was lighting the drink. That's the only good that came out of my experience with absinthe.
For Whom the Bell Tolls
Year: 1943
Director: Sam Wood
Runtime: 170 mins
Certification: UK U
Genre: Drama/Romance/Adventure/War
Tagline: It tolls for thee.
Plot
It's the 1930s and there's a civil war in Spain.
Robert Jordan has been assigned a dangerous mission to blow up a bridge in the mountains.
A local woman Pilar has prophetic powers, and mysteriously encourages a young girl Maria, who has been ravaged by enemy soldiers, to spend the night with Jordan, under the stars.
This was originally a novel by Ernest Hemingway; the lead character Robert Jordan shares Hemingway's partiality for absinthe.
He reaches for it at his most desperate hour when. but we won't spoil it for you.
From Hell
Year: 2001
Director: Allen and Albert Hughes
Runtime: 122 mins
Certification: UK 18, USA R
Genre: Thriller/Crime/Mystery/Horror
Tagline: Only the legend will survive.
Plot
From Hell tells the now infamous tale of Victorian murderer Jack the Ripper, who was never caught.
The film is set in London in 1888, where the notorious Ripper has been murdering and dissecting prostitutes in seedy Whitechapel.
Scotland Yard Inspector Fred Abberline (Johnny Depp), aided by his partner, Peter Godley (Coltrane), attempts to track down the killer.
Abberline, an opium addict and absinthe devotee, is able to have psychic visions of the future, helping him solve cases.
Johnny Depp was taught everything he knows about absinthe!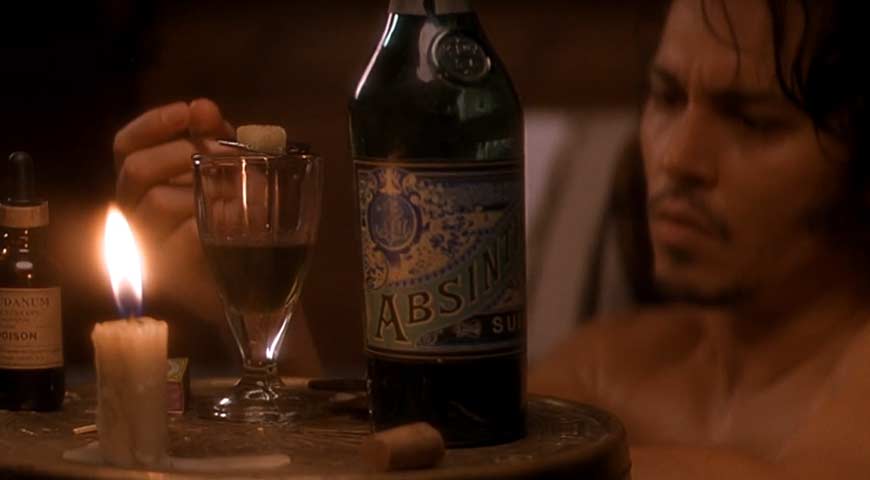 Girls Trip
Year: 2017
Director: Malcolm D. Lee
Runtime: 122 mins
Certificate: R
Genre: Adventure/Comedy/Drama
Tagline: Today is the last day that we will ever be this young.
Plot
When four lifelong friends travel to New Orleans for the annual Essence Festival, sisterhoods are rekindled, wild sides are rediscovered, and there's enough dancing, drinking, brawling and romancing to make the Big Easy blush.
There are so many funny moments in Girls Trip, but a standout scene involves absinthe purchased on Bourbon Street. Dina (Tiffany Haddish) is warned about the green-tinted liquor, but decides to drop it in cocktails she's mixing for her girls. Soon after, the women have an unforgettable night – one scene involves Queen Latifah having a very intimate moment with a lamp.
The group has a particularly hilarious encounter with absinthe when Queen Latifah hallucinates inside a night club.
Hex
Year: 2004-2005
Director: Brian Grant, Andy Goddard
Runtime: 60 mins (17 episodes)
Certification: UK 15, USA 14
Genre: Horror/Drama/Fantasy/Comedy
Tagline: Bloody. Hell.
Plot
In the first series Hex's heroine is Cassie Hughes, a pretty but distant girl who doesn't quite fit in at her new school. However at the beginning of the second series we discover that Cassie is in fact just a pawn for the villains, and a new character Ella Dee is introduced, remaining the focus for the second series.
On a sad day for fans in April 2006 it was announced that no further series will be produced.
Ella (Laura Pyper) offers absinthe to the popular students at her new school, hoping to impress her peers.
She tells Leon (Jamie Davis), with characteristic melodrama, that absinthe "rots your brain".
Lust for Life
Year: 1956
Director: Vincente Minnelli
Runtime: 122 mins
Certification: UK PG
Genre: Biography/Drama
Plot
The film follows the life of Vincent Van Gogh in all its tortured, unappreciated turmoil.
Van Gogh only sold one painting in his lifetime; he was respected among artists, but was not friends with them.
Only his brother, Theo, was consistently loving and supportive throughout the artist's life.
This film focuses on the life of Van Gogh, in which absinthe played a large part: most notably in the ear-chopping debacle.
Madame X
Year: 1966
Director: David Lowell Rich
Runtime: 100 mins
Certification: NOT RATED
Genre: Drama
Tagline: There was always a man, never a name!
Plot
A married woman is being romantically pursued by another man, who suddenly dies, thereby compromising her reputation.
Her mother-in-law (the woman's husband is a wealthy socialite) forces her to assume a new identity to protect her husband and baby son's status.
The homeless woman drifts through the world and attempts to forget her sadness with alcohol (absinthe) and men, eventually returning to her home city, only to murder a man who blackmails her, threatening to expose her past.
A public defender represents her at the murder trial, who by chance happens to be her adult son.
At the trial she refuses to give her real name, still hoping to protect her son, and so is known to the court as defendant 'Madame X'.
'Madame X' attempts to drown her sorrows in absinthe in this achingly sad film about a woman who loses her home, her husband and her baby son, all in the name of that all-important and vicious thing, 'reputation'.
Moulin Rouge!
Year: 2001
Director: Baz Luhrmann
Runtime: 127 mins
Certification: UK 12, USA PG
Genre: Drama/Musical/Romance
Tagline: No Laws. No Limits. One Rule. Never Fall In Love.
Plot
Christian, a young Scottish bohemian poet, moves to Paris in 1899, defying his father and joining the dark, fantastical underworld inhabiting Paris' now legendary Moulin Rouge club.
In this seedy but glamorous haven of sex, drugs and newly-discovered electricity, Christian finds himself plunged into a passionate but ultimately tragic love affair with Satine, the club's highest paid star and the city's most famous courtesan.
Many of the club's famous patrons are constantly high on absinthe, prompting gorgeous Kylie to make an appearance as the 'Green Fairy' of their drunken hallucinations. Now that's one very good reason to drink Absinthe!
Back in 1999, La Boheme has been approached by Twentieth Century Fox for absinthe original to feature in this famous movie with Ewan McGregor and Nicole Kidman.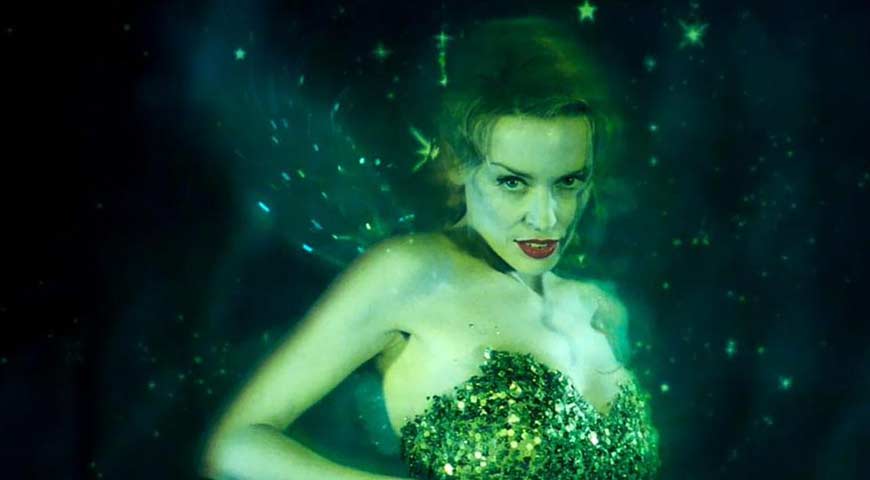 Murder by Numbers
Year: 2002
Director: Barbet Shroeder
Runtime: 120mins
Certification: UK 15, USA R
Genre: Crime, Thriller
Tagline: Let the mind games begin
Plot
Justin (Michael Pitt), a brilliant but reclusive young man, reads Rimbaud and cultivates orchids whilst writing term papers crammed with übermenschan concepts.
Richard (Ryan Gosling) is dashing in a red leather jacket, but brimming over with hatred, with a killer smile and sleepy eyes. The two friends arrange nocturnal rendezvous in an abandoned manse high above the Pacific, making ominous toasts, "Let's derange the world!", with glasses of absinthe.
The boys plan the perfect crime, pitching their wits against the minds of the detectives Cassie Mayweather (Sandra Bullock) and Sam Kennedy (Ben Chaplin).
Cassie's own violent past comes back to haunt her as she unearths evidence, and her own gut feelings, all pointing to the boys.
Justin and Richard allow the evidence to point to themselves – they believe they have foolproof alibis. However, the discovery of a secret compartment in the rear of a garage is all Cassie needs to make things add up.
In this film two malevolent, brilliant young men drink absinthe together and plan the perfect crime - the flawless murder of an arbitrarily chosen woman.
They think all has gone perfectly, but they hadn't counted on the tenacious Detective Cassie Mayweather and her partner.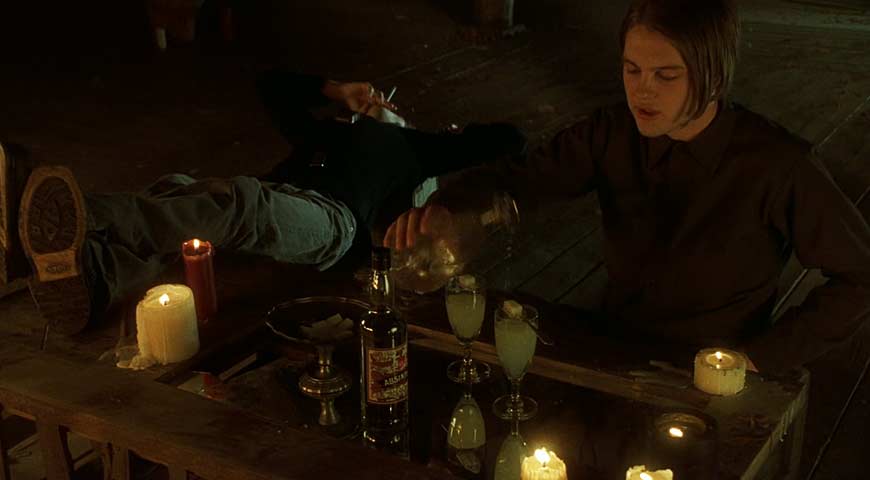 No Reservations
Year: 2005
Director: Anthony Bourdain
Runtime: 60 mins (per episode)
Genre: Documentary
Tagline: Be a traveler, not a tourist.
Plot
Anthony Bourdain, celebrity chef and writer travels to places around the world, looking for unique food and dining experiences.
The opening show of this series is set in Paris, where Bourdain excitedly discovers the infamous absinthe.
Pretty baby
Year: 1978
Director: Louis Malle
Runtime: 109 mins
Certification: UK 18, USA R
Genre: Drama/History
Tagline: In 1917, in the red-light district of New Orleans , they called her "Pretty Baby"
Plot
It's 1917 and the last months of legal prostitution in Storyville, New Orlean's red-light district.
Violet is twelve years old but already a member of a brothel full of young girls like her.
The film follows her loss of innocence while also allowing for hope in people's essential goodness.
Absinthe played its part in the hedonistic lifestyle of New Orleans in 1917, and in this film Louis Malle addresses the morality of this life with objectivity and sensitivity.
The heroine is the twelve-year-old prostitute Violet, played by a young Brooke Shields.
Sleepy Hollow
Year: 1999
Director: Tim Burton
Runtime: 105 mins
Certification: UK 15, USA R
Genre: Fantasy/Horror/Thriller
Tagline: Close Your Eyes. Say Your Prayers. Sleep If You Can.
Plot
There have been a series of murders in the town of Sleepy Hollow, and they all have one thing in common: a headless corpse.
It's 1799, and Ichabod Crane, a young constable from New York, is drafted in to solve the mystery.
The town citizens are convinced that it is the old ghost of the Headless Horseman getting restless - but are they right?
Total Eclipse
Year: 1995
Director: Agnieszka Holland
Runtime: 111 mins
Certification: UK 18, USA R
Genre: Biography/Drama
Tagline: Touched by Genius. Cursed by Madness. Blinded by Love.
Plot
Verlaine and Rimbaud's absinthe-fuelled, passionate affair is the focus of this dark film. Rimbaud wrote all his brilliant poems during this relationship in the early 1870s, when he was just a teenager.
His career as a poet ended with his relationship, as the hazards proved too great – during a particularly heated argument Verlaine shot Rimbaud in the hand.
On the first day of filming the actors drank ouzo as a replacement for absinthe. This scene turned out so well that 'method drinking' was used for the rest of the shoot. Thewlis has admitted in an interview that he can hardly remember making the film!
Van Helsing
Year: 2004
Director: Stephen Sommers
Runtime: 131 mins
Certification: UK 12A, USA PG-13
Genre: Action/Adventure/Horror/Fantasy/Thriller
Tagline: The One Name They All Fear
Plot
Gabriel Van Helsing, Dracula's arch enemy in Bram Stoker's famous version of the tale, is a man cursed with a past he cannot recall and driven by a mission he cannot deny. Charged by a secret organisation to seek out and defeat evil the world over, his efforts to rid the world of its nightmarish creatures have been rewarded with the title that now follows him: murderer.
On a mission to kill Dracula, Van Helsing uncovers a secret he had never imagined, and comes face-to-face with the unresolved mysteries of his own enshrouded past.
Van Helsing discovers the Frankenstein monster under a windmill rammed full with absinthe bottles - later Van Helsing and Anna take swigs of absinthe to try to calm their nerves!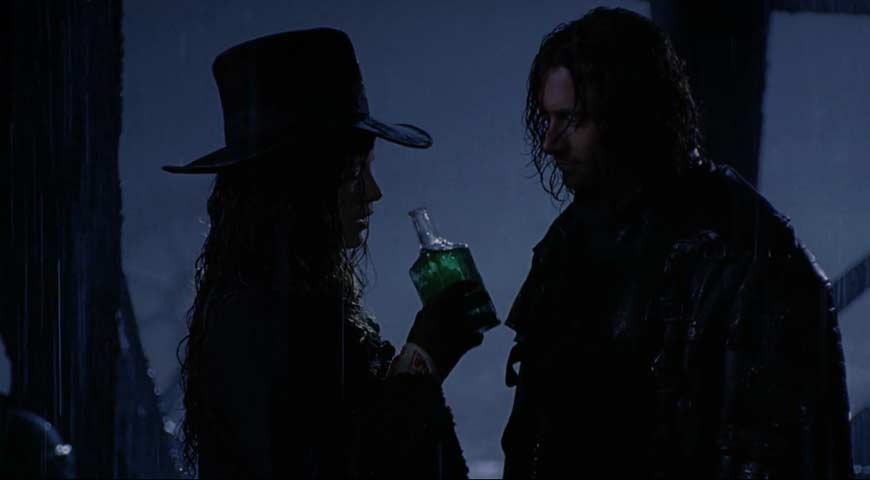 Wilde
Year: 1997
Director: Brian Gilbert
Runtime: 118 mins
Certification: UK 15, USA R
Genre: Biography/Drama
Tagline: The story of the first modern man
Plot
This film tells the story of Oscar Wilde, genius, poet, playwright and the First Modern Man.
The self-realisation of his homosexuality caused Wilde enormous torment as he juggled marriage, fatherhood and responsibility with his obsessive love for Lord Alfred Douglas, nicknamed Bosie.
After legal action instigated by Bosie's father, the mad Marquis of Queensberry, Wilde refused to flee the country and was sentenced to two years at hard labour by the courts of an intolerant Victorian society.
Wilde was famed for his love of absinthe.
He described the experience of drinking absinthe in the perfect quote (he almost always spoke in quotes): "The first stage is like ordinary drinking, the second when you begin to see monstrous and cruel things, but if you can persevere you will enter in upon the third stage where you see things that you want to see, wonderful curious things."
XXX
Year: 2002
Director: Rob Cohen
Runtime: 124 mins
Certification: UK 12A, USA PG-13
Genre: Adventure/Action/Thriller
Tagline: If you want someone to save the world, make sure it's someone who likes the world as it is.
Plot
Xander "XXX" Cage, played by Vin Diesel, is a notorious thrill seeker from the underground.
A US Government agent Gibbons (Samuel L. Jackson) recruits XXX to infiltrate an underground Russian crime ring, led by the nihilistic Yorgi.
Using his athletic prowess and a whole lot of attitude, XXX must combat a clever, organized, and ruthless enemy.
At the beginning of this movie someone passes a fiery shot of green absinthe to the very scary Yorgi.
His nihilistic character is thus neatly established.
Remember to bookmark, share with friends and if If you spot another movie with absinthe or if there is one missing in our list, be sure to tell us.
Leave a Comment
Leave a Reply
Please
login
to post a comment.