Health Benefits Of Wormwood – A Natural Gift To Human Beings
Wormwood - Artemisia Absinthium
Are you still confused about wormwood in absinthe? The goal of today's post is to present helpful information about the vast health benefits of wormwood (Artemisia absinthium).
Medicinal herbs like wormwood are God's donation to the living soul to form sickness-free beneficial life and play an active part in protecting our fitness. Nothing in the world is more precious to us than our healthy life. Absinthe is considered to be incredibly trustworthy & tested tonic in the therapy of different foodstuffs.
Wormwood (Artemisia absinthium) herb is known as holistic healing and natural medicine because of its herbaceous flavor, health benefits, and distinctive aroma. Wormwood is a shrubby plant, its leaves and flowers are used for additive alcoholic refreshment and medicine.
While native to Europe, it grows worldwide, including parts of South America, Asia, the United States, and Africa. The plant has yellow, green leaves, greenish-silver or smooth white stems, and pale yellow or bright flowers. Its flowers are tubiform and assemble in curvilinear angled-down heads. Blossoming begins from the beginning of summer to mid autumn. The fruit is a little achene. It germinates naturally on dry ground, rough, on unstable slopes and fields, and at the side of the track.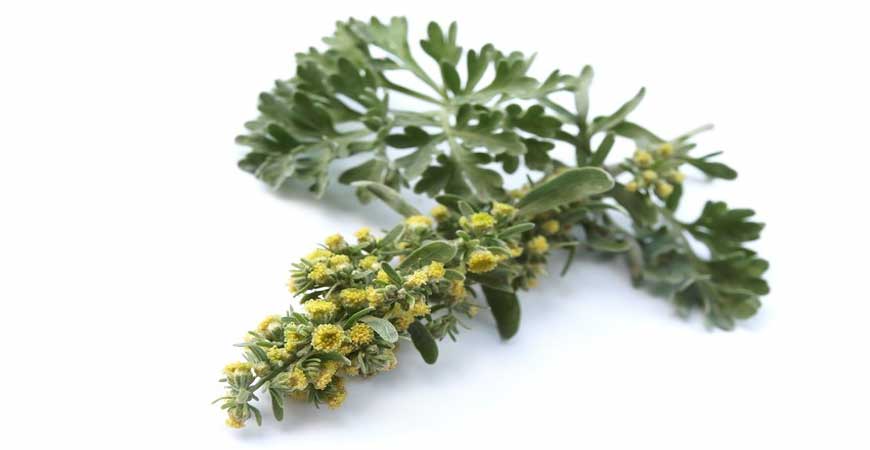 This powerful plant has historically been used to remove the body of bad parasites; for that reason, the name wormwood. Extracted oil from these herbs has many health benefits, including pain management, reduced inflammation, and improving digestive health.
Artemisia Absinthium (Grand wormwood) is the nominative herb of the alcohol absinthe. Traditionally, the spices were regarded as an effective treatment for nausea and stomach cramps.
Health Benefits of Wormwood
Herbal healing is the science and art of applying herbs for treating illness and promoting fitness. Herbal remedy refers to using a plant root, seeds, flowers, bark, or berries. Wormwood has been used for curing cause long before writing down experiences. Egyptian papyrus and early Chinese hypothesis offer remedial uses for herbs as soon as 3,000 BC. Experimenters say that persons in various sections of the world moved toward using identical herbs for the same cause.
The health advantages of wormwood can be credited to its effects as deodorant, vermifuge, insecticide, cholagogue, digestive, tonic, narcotic, febrifuge, emmenagogue, and anthelmintic substance. Wormwood is also known as grand wormwood, wormwood sage, Absinthe, Herbe d'Absinthe, Wermut, green ginger, mugwort, and madder wort. In the old days, it was used in drinks such as absinthe to put to its taste. The wormwood oil is taken out by steam distillation of its flowering tops things and leaves.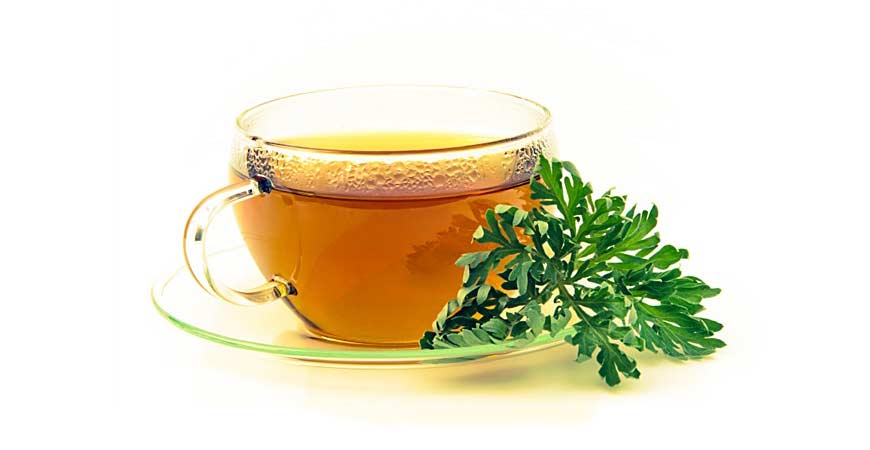 ● Wormwood, for a long time, seeks for its anti-inflammatory and pain-reducing advantages. For instance, this plant may help minimize osteoarthritis and a tender situation evolved from joint inflammation. Extract of this herb reduces pain.
● Wormwood is used to fight parasitic infections.
● Wormwood herb is used for different digestion issues such as intestinal spasms, gallbladder diseases, loss of appetite, and distressed stomach. Wormwood is also considered to treat depression, fever, muscle pain, liver disease, worm infections, and memory loss.
● It is also suitable for healing wounds and insect bites. You can directly apply it to the skin for osteoarthritis.
● In industry, wormwood herb is an aroma ingredient in flavored beverage soaps.
● Sour components of wormwood energize the gustatory nerves in the mouth and enhance bile and gastric juice's secretion. Thereby encourage digestion and appetite.
● Wormwood has the potential advantages of using it as a feed supplement source for ruminants, especially in fermentation patterns for efficient diets.
● Wormwood is historically being used to treat dyspeptic complaints, including gallbladder and gastritis.
● Wormwood applies as a vermifuge and is thought to be an effective natural remedy for parasite control both in humans and in pets.
● Grand wormwood is very helpful in an inflammatory and painful condition. Wormwood extract possesses a vigorous anti-inflammatory activity.
● Arthropod parasites such as ticks, mosquitoes, and flies, apart from their straight disease effects of irritation and blood loss, are important vectors of various illness-agents affecting both humans and pets. Wormwood is well known for its antifeedant advantages. The active ingredients of wormwood are known to possess growth inhibitory, insecticidal, and anti-moulting activities.
● Herbs could be the best source of medicine as compared to synthetically manufactured drugs. These herbal plants' pharmacological significance is functional ingredients known as phytochemicals, including flavonoids, essential oil, lectins, polypeptides, and others. Wormwood has an inhibitory function against various fungi, attributed to the considerable component of essential oil.
● The antifungal function of wormwood provides an essential role in the cosmetics, pharmaceutical, and food industries.
Some other benefits of wormwood also include
● Supports gallbladder and liver functions
● Controls blood circulation
● Supports the immune system, therefore gives shelter against diseases
● Best for insomnia (a common sleep disorder)
● The ideal source of antioxidants
● Easy healing of skin wounds
● It has antipyretic advantages
● It is perfect for intestinal spasms
● It can apply to minimizing pain and skin irritation
● It is also suitable for coughs, flu and sore throats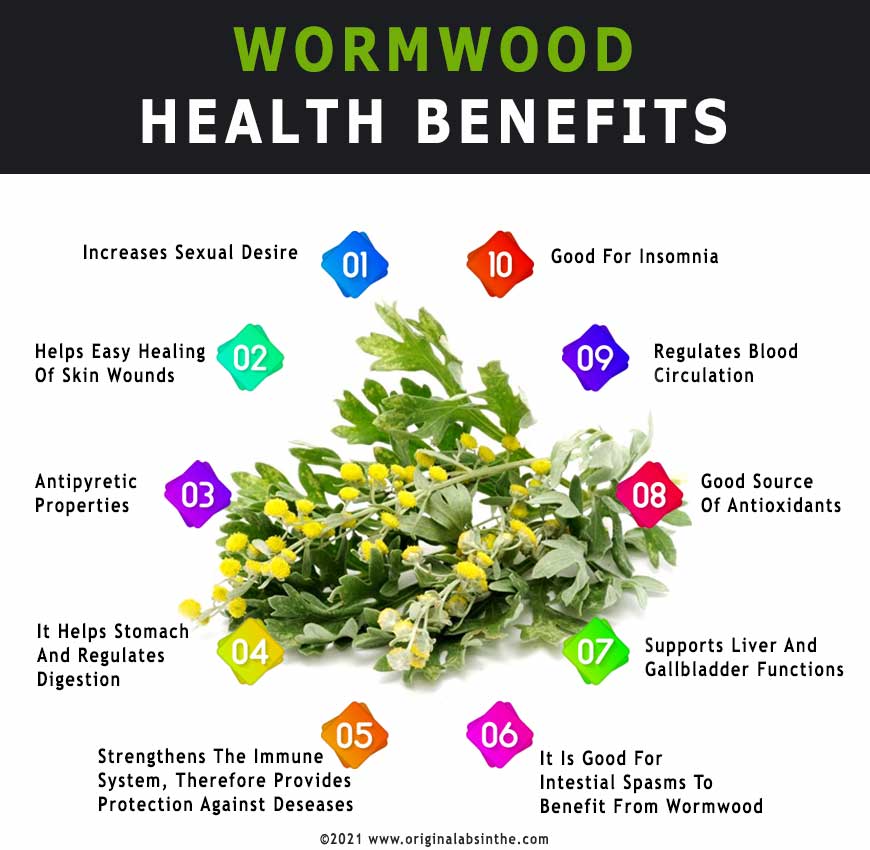 Effects of Real Absinthe With Wormwood
Absinthe is a popular alcoholic drink made with extract of grand wormwood called thujone. Levels of thujone in correctly distilled, genuine absinthe should be above 15 mg/l. Majority of absinthes available in States are thujone-free as the levels are way below 9 mg/l. Absinthe can also be described as a soul of wormwood. Usually greenish color with excessive alcoholic power, absinthe is extracted from various botanicals, namely the flowers and leaves of grand wormwood. Other common additives are sweet fennel, green anise, and culinary herbs.
There are huge misunderstandings regarding the drink absinthe. The first important thing to note is that absinthe is not a drug. It will, however create mental and physical activation.
Traditional Method to Drink Absinthe
Invite the green fairy over for some absinthe experience and love it traditionally. The traditional method to go around is to make ready your absinthe fountain with chill water. Next, pour 30ml of Absinthe in the Pontarlier absinthe glass, which will fill the reservoir at the base of the absinthe glassware. After that, cover the glass with a stainless steel sugar spoon. Put one sugar cube on the slotted spoon and open up the dripper. As the water starts to drip, it will melt the sugar cube and dilute the absinthe. It is recommended to drip up to four parts of water to one part absinthe, but you cut to your choice. Cheers! You have now partaken in the traditional way of drinking Absinthe.
Health Benefits of Wormwood Absinthe
Many people query, is it okay to use absinthe? The absinthe has enormous benefits for health; absinthe holds magical curing properties and is used to improve health. The green fairy gives a protective way to care for health because it does not have any toxins.
● Absinthe has always been a target of a critical pharmaceutical and botanical interest. It is used in indigenous systems of medicine as an acaricide, vermifuge, antiseptic, cardiac stimulant, and the treatment of hepatitis and chronic fevers.
● It is also too good for improving memory and restoration of declining mental function. Its essential oil has neuroprotective, antimicrobial, antimalarial, antidepressant, and antifungal activity.
● Absinthe (wormwood) is also used to make tea for helping during labor pain and treating sclerosis and leukaemia. Moreover, the organic extract of wormwood revealed antifeedant and toxic effects.
● Ariel, part of absinthe shown to possess anti-snake venom function.
● Absinthe is commonly used in the food industry in the manufacturing of spirits, aperitifs, and bitters. Wormwood is used as a whole plant in ruminant feeding.
● Absinthe has a robust flavor, which may alter feed sensory attributes and therefore affect feed intake.
● Absinthe extract is good for the protection of (RBC) human erythrocytes against hypotonic shock.
● Wormwood absinthe stimulates menstrual discharge.
● It also provides relief from anxiety and stress and also improves digestion.
● You can use wormwood for Absinthe as tea, wine, tincture, and for a room spray.
● Depression is observed to be the most chronic state; Absinthe has been an active and psychotherapeutic potential against depression.
● Consuming Absinthe may help to manage diabetes, heart illness, and cancer. It may also help to prevent blood clots and to provide anti-tumour and anti-inflammatory benefits.
● Absinthe helps boost immunity and fight infections.
● It also improves memory and brain function.
● Typical health advantages of drinking Absinthe include pain reduction and relaxation. It is also suitable for the body system, such as the immune and digestive.
● Antioxidants found in real Absinthe are great for infection and fighting diseases.
Some other benefits of wormwood (Absinthe)
● Improve kidney function
● Power the immune system
● Improve digestion
● Enhance energy
● Increase detoxification
● Anti-cancerous
Conclusion
Wormwood is critical to healthy skin and soul. When you need to heal your health, wormwood is here to help you.
Wormwood has been used for healing and health issues for centuries. Through modern science and traditional wisdom, it has supported and promoted health for the childbearing year.
We want to encourage you to stay well informed and educate yourself about the advantages of wormwood absinthe. We are happy to support you in learning about its benefits as it relates to our products. Use wormwood to enjoy every season and bring yourself back to wellness.
So, after learning all the health benefits that wormwood absinthe plant has to offer, why not give it a go and make sure that absinthe is used more often in your home bar? We have quite a few varieties of absinthe with wormwood for sale. And if you don't buy absinthe here, always remember that for the proper absinthe experience, you have to always go for absinthe with wormwood and not some cheap thujone-free imitations.
No doubt, real wormwood absinthe has become an exceptional drink in many countries and we believe that you will too no longer be able to live without magical absinthe with wormwood.
Leave a Comment
Leave a Reply
Please
login
to post a comment.