The Green Fairy Files – Welcome to the Best Absinthe Blog
The Green Fairy, the green muse, the mythical green lady, the magical potion – absinthe has enjoyed many names throughout history. This emerald green elixir has also enjoyed quite a reputation over the years. Sipped by many historical personalities from the likes of Baudelaire, Oscar Wilde, Manet and the great Picasso himself, strong absinthe has been quite an important part of history. While the drink was invented in Switzerland, the green fairy has a better association in history with the French. This is primarily because of the Algerian War, which saw French soldiers being given the absinthe as a protective measure against fever. The French conquest of Algeria did not see their love for the drink end there and it really grew on the French.

There are many stories about the green fairy out there, but not all of them are fictional. Some people go so far as to associate the drink with hallucinogenic qualities, and if you think all the hallucinogenic effects are just rumors, then you should know that absinthe DOES consist of psychoactive ingredients. Thujone is a psychoactive byproduct of a herb called wormwood (Artemisia Absinthium, the herb that gives absinthe its name); if you're having real absinthe with wormwood, then you better get ready for some surreal visuals. That being said, this spirit is nothing less than magical. In fact, you can actually experience the magic of the green fairy through some rare and real absinthe, the making of which is almost lost to the world and cheap replacements came in to stake a claim as the real thing.

The good news is that you no longer need to suffer from low quality spirits and can enjoy the real thing! This is the best place to get all the information you need to know about absinthe.


Welcome to Absinthe Original's Blog
Absinthe Original is the trading name of La Boheme UK Limited and this is the exact place you need to be for everything that you have ever wanted to know about the world of absinthe.

A trading organization, which was formed in 1996, we have been operating in both the UK and the world capital of absinthe – Prague. While we are first and foremost a British company, we stick true to the romance for this emerald green elixir, which was at the peak in Tsarist Russia and when the Austro-Hungarian Empire ruled over the Czech Republic.

Rest assured, our roots are very strongly embedded in the city of Prague and our vast expertise and experience have given us the capabilities to call ourselves the best resource for Absinthe and any information on it. After all, we are the only seller that is distributing real absinthe with high contents of thujone.

At Absinthe Original, we do not sell any of that low quality spirit of an excuse that so many others are selling, falsely claiming to be the real stuff.

At this point in time, there are only two real absinthes in existence, which contain anywhere near the levels of pre-ban thujone (over 100 mg). It is the Century Absinthe, which is no longer available and then there is the King of Spirits Gold Absinthe – something which you can get only through us at Absinthe Liquor Store.


A Bit on Real Absinthe and Fake Absinthe
Real absinthe is essentially distilled wormwood. But, there is much more to the process. The oil part of the wormwood plant contains thujone, which is the signature ingredient of real absinthe and is responsible for the distinctive absinthe effect. A lot of the companies calling themselves sellers of the real thing sell thujone-free absinthe or absinthe with negligible levels of this vital ingredient.
The absinthe we provide is without a doubt the finest among the genuine absinthe with thujone available anywhere in the world. Keep in mind, this is not a claim we make lightly. Absinthe was created over 200 years ago in a small town called Couvet in Switzerland. Our distilleries produce the original Absinthe using the secret 200-year-old Swiss traditional absinthe recipe, which has been compared to some of the finest and rarest French cognacs by the best connoisseurs in the world.

We use only the highest quality botanicals and ingredients to produce the real absinthe without the use of any chemicals or artificial colorants. Of course, premium quality products have a slightly higher price than the other products that try to emulate what we have already achieved perfection in. If you have already had fake absinthe from unreliable sources before, once you try the La Boheme Original Absinthe, you will instantly be able to tell the difference between the two and the higher cost will mean nothing to you.

We provide you one of life's greatest pleasures within a bottle and to make your experience even better, we have started The Absinthe Blog to enlighten you on everything you need to know about absinthe liquor.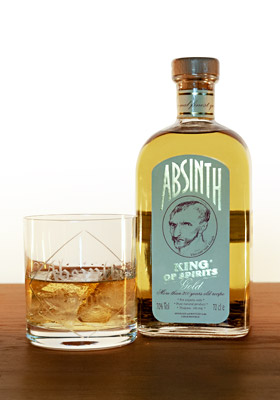 What The Absinthe Original Blog is All About
While there is plenty of information on this wonderful spirit out there, unfortunately a lot of it is incorrect and misleading. At Absinthe Liquor Store, we do not just want to provide you with the real absinthe that we have perfected, but we also want to educate our customers by giving them facts about this magical green spirit.

When we said earlier we would tell you everything about absinthe, we really meant everything. We will be publishing valuable content, which is currently divided into three categories (we will expand on as we go ahead):

• Absinthe News & Stories
• Absinthe Drinks & Cocktails
• Absinthe Reviews & Notes


Absinthe News & Stories
Keep yourself up-to-date with all the latest news regarding absinthe and the absinthe industry here. This section will also contain interesting stories about the mythical green lady, containing facts not fiction.


Absinthe Drinks & Cocktails
While a lot of people favour drinking absinthe with a little sugar and water, others prefer to use it as a base for their favourite cocktails. The thing is that there is so much more to absinthe than you can imagine. This is the prime resource for you to learn all the ways you can drink absinthe and fully experience life's greatest pleasures. And, of course remembering all to tell the story!


Absinthe Reviews & Notes
You will get professional absinthe reviews and tasting notes here. We will not just publish reviews on different absinthe drinks, but also absinthe fountains, glasses, barware and everything else you might not even know about.


Experience The Best Pleasures of Life
Formed in 1996, La Boheme Absinthe Original has come a very long way in our operations in both the UK and the Czech Republic. We have brick-and-mortar offices in these two countries, large warehouse and an online store for absinthe lovers elsewhere in the world.

Browse through genuine brands of the green fairy, which have been manufactured using traditional recipes and historic recipes that contain 70%, 60% and 45% alcohol volume.

If you want to purchase life's greatest pleasures in a bottle, just head to our website and create an account to find some of the best that the land of the green fairies has to offer.

For more information on the mythical green liquor, stay tuned to our blog for more! And of course, if you like what you read, do not forget to bookmark and share with your friends as well!
Leave a Comment
Leave a Reply
Please
login
to post a comment.