11 Hauntingly Sexy Halloween Absinthe Cocktails You Have to Try!
Ghouls that only come out after dark. Ghastly aliens and menacing werewolves. These are scenes that fade into the background when the sweet elixir of summer calls.
However, the most frightening, exciting time of year is upon us: Halloween.
If your idea of a perfect October includes pyroterra and sexy vampires over pumpkins and chai lattes, you're one of us. And, what do we love to sip on a dark and chilling night that promises plenty of devious debauchery?
Absinthe cocktails, of course.
The Green Fairy shines the brightest on nights that are dark and moody. Today, we're sharing some of our favorite absinthe concoctions, all of which feature this tempting and tantalizing absinthe alcohol.
Ready to learn more? Let's dive in.
The Power of Absinthe
What gives all of these cocktails their distinct flavor? One sip of absinthe and you'll know the answer.
This libation is extracted from wormwood, with a natural licorice-like taste akin to anise. However, you'll find plenty of absinthe cocktails that add other herbs and flowers to the mix. The chlorophyll in those plants gives absinthe its trademark green tint.
If the idea of drinking this mixture raises your eyebrows, it's likely because you know that absinthe contains psychoactive ingredients.
The chemical thujone is a psychoactive byproduct of wormwood. It occurs naturally in the drink and is what gives absinthe its scandalous (but delicious) reputation.
Though it can cause mind and body-altering reactions, as a casual absinthe drinker, you can rest assured that the magic in your mug is perfectly safe. In fact, it's just the ticket you need to turn an ordinary October 31 into the perfect party.
Next, let's take a look at eleven best absinthe cocktails that are as provocative as they are palatable.
1. Death in the Afternoon
This drink gets its name from the non-fiction Hemingway classic by the same name, in which he waxes poetic on the magic and magnificence of bullfighting.
In fact, the writer actually claims to have invented this drink himself. Mix it up, sip it slowly and pretend you have the stoic snow-white beard of an American icon.
You'll only need two ingredients for this one:
1.5 ounces of absinthe
4.5 ounces of champagne or sparkling wine
Pour the absinthe into a champagne flute or coupe glass. Gradually top it with the champagne or wine for a daring and decadent sipper. Hemingway suggested downing three to five of these, but one or two should do the trick.
2. The Green Beast
You don't have to dress up as The Hulk this Halloween to appreciate this refreshing cocktail.
The Green Beast puts the spotlight on absinthe's gorgeous jade color, adding only a few other ingredients for a simple sipper you'll want to keep by your side all night long.
The best part? You can mix it all up in a festive punch bowl for an instant party!
To start, gather the following ingredients:
1 ounce of absinthe
1 ounce of fresh lime juice
1 ounce of simple syrup
4 ounces of chilled water
Sliced cucumber
Add all of the ingredients into a punch bowl in the above order. Add plenty of ice chunks to the mixture, and top with the cucumber slices. Serve to your guests and enjoy!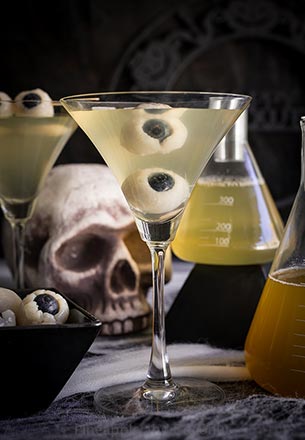 3. La Tour Eiffel Absinthe Drink
Planning a French-themed Halloween fete? If so, this sophisticated absinthe drink is just the ticket. Filled with French-made spirits and liqueurs including Suze (a French apéritif), Cointreau, and cognac, it's your ticket to instant sophistication.
Famed bartender Gary Regan created La Tour Eiffel. Known for authoring "The Cocktailian" column in the San Francisco Column for more than 10 years, he's well-versed in pairing flavors and creating new concoctions that become instant classics.
To make it, start with these ingredients:
1/4 an ounce of absinthe
2.5 ounces of cognac
1/2 an ounce of Cointreau
1/2 an ounce of Suze
Pour the absinthe into a chilled champagne flute, tilting and rotating the glass to coat it on all sides. Next, add a few ice cubes and set the flute aside.
Add the rest of the ingredients to a separate mixing glass, along with fresh ice, and stir. Then, return to the champagne flute, discard the ice and excess absinthe, and strain the mixture into it. Garnish with a twist of fresh lemon!
4. Sazerac
October and orange go hand-in-hand, and this absinthe drink is ideal for ringing in All Hallow's Eve.
First, gather your ingredients. For this one, you'll need:
3/4 of a teaspoon of sugar (or one sugar cube)
One teaspoon of water
Two dashes of Peychaud bitters
Two ounces of rye whiskey
1/8 of a teaspoon of absinthe
Ice
Lemon peel for garnish
Place the sugar in one cocktail glass. Add the teaspoon of water and the bitters. Stir to dissolve the sugar, and add in the ice and whiskey.
Rinse a separate glass with the absinthe, swirling it around to coat the sides. Strain the contents from the other glass into the absinthe one. Garnish with the lemon peel and enjoy!
5. The Sun Also Rises
You might be familiar with another absinthe drink named after a Hemingway classic - Death in the Afternoon. This drink, named after one of the writer's first novel, is equally delicious.
The Sun Also Rises blends absinthe with two types of spirits and two types of citrus for a knockout flavor that would have left the literary great spinning.
You'll need these ingredients:
2 ounces of rum
3/4 an ounce of fresh lime juice
1/2 an ounce of fresh grapefruit juice
1/2 an ounce of Luxardo Maraschino Liqueur
1 teaspoon absinthe
Add all of the ingredients into a cocktail shaker filled with ice. Shake the mixture well and strain it into a chilled coupe glass filled with crushed ice.
Want to try this drink at home? Go ahead and get yoursef a bottle of bloody red absinthe! A cocktail aficionado known to indulge his wild side, we think Hemingway would approve.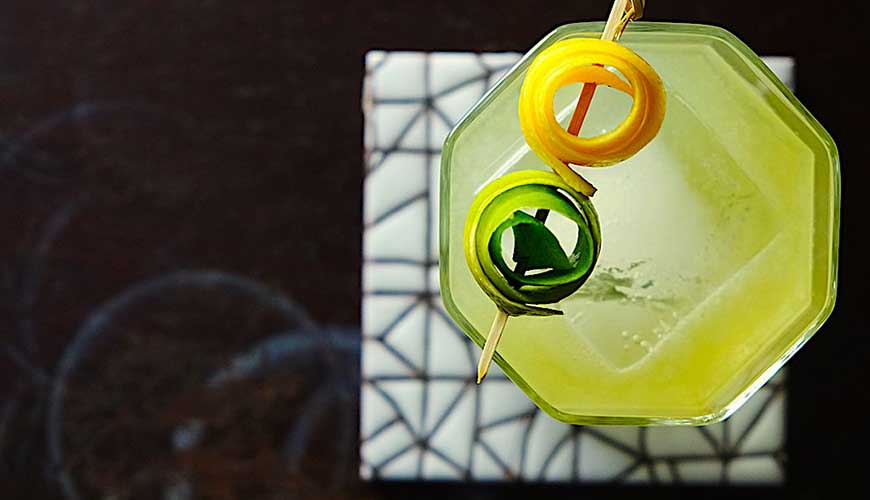 6. Zombie
Blood-spattered shirts and half-decayed faces. Nothing screams Halloween more like the undead.
This cocktail is just as haunting as its name implies. After all, it has four different kinds of rum in it! The founder of tiki cocktail culture, Don the Beachcomber, invented this mysterious recipe.
If you're up to the challenge of downing this behemoth, you'll be rewarded with rich flavors of cinnamon, grapefruit, lime, and a hint of mint. You'll notice that this recipe calls for "Don's Mix" which you can make by combining two parts grapefruit juice with one part cinnamon simple syrup.
Gather these ingredients for a high-proof masterpiece that can turn even the deadest party on its head:
1.5 ounces Jamaican rum
1.5 ounces Puerto Rican rum
One ounce of 151-proof rum
0.5 ounces of Don's Mix
0.5 ounces of Velvet Falernum
3/4 of an ounce of lime juice
1/4 of an ounce of grenadine
Two dashes of absinthe
One dash of Angostura bitters
Mint for garnish
Ice
Mix all of the ingredients into a cocktail shaker filled with ice. Shake hard and pour into a cocktail glass filled with crushed ice. Garnish with the mint and take a step back into the era of Old Hollywood.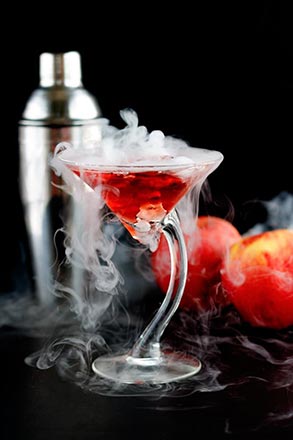 7. The Poison Apple
Planning to dress up as a sexy Snow White for Halloween? Tip this cocktail back and you'll have the seven dwarfs begging at your heels.
This fruity concoction is best served chilled and looks as vibrant and dangerous as you'd think. Here's what you'll need to have on hand:
One ounce of red absinthe
Two ounces of apple cider
One ounce of cranberry juice
Dash of ginger ale
0.5 ounces of Chambord
Ice
Combine the red absinthe, apple cider, cranberry juice, and ginger ale into a shaker filled with ice. Shake well, and strain the bloody red blend into a cold martini glass. Drop in the Chambord and watch it sink to the bottom of the glass.
For an extra festive touch, skewer one Granny Smith apple on a toothpick and lay it across the glass.
8. Paranormal Activity
No, we're not talking about the shaky, low-budget indie thriller from 2007. Rather, this is one spooky blend that changes from white to black in front of your eyes like a supernatural apparition.
Make as much or as little of this drink as you need. This is one you'll want to prepare it in front of a crowd, watching their reaction with the addition of every new ingredient you add.
Gather these first:
One part absinthe
One part white crème de cacao
One part coconut milk
A drizzle of Black Sambuca
Ice
Combine the absinthe, crème de cacao, and coconut milk into a cocktail shaker filled with ice. Shake hard until the mixture becomes frothy, and then pour it into a short-rocks glass with ice.

Ask everyone to gather around, and pour the Black Sambuca down the side of the glass. It will float for a second on the bottom and then diffuse into the rest of the liquid, creating a shadow-like phantom that's full of allure.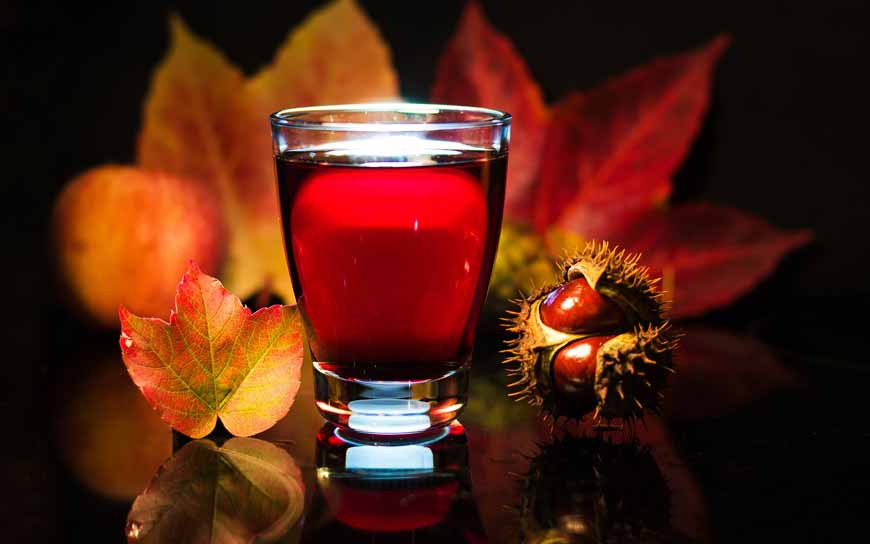 9. Absinthe Tea
What's more comforting than sitting by a crackling October fire with your hands wrapped around a hot mug of something indulgent?
Tea and absinthe pair great together and this recipe is the perfect way to shake warm even the iciest of souls. Put on your coziest slippers and head to the kitchen to pour up a cup.
The ingredients to buy include:
One serving/preparation of Tie Guan Yin Oolong green tea (about 85ml)
10ml absinthe
15 drops of Teapot Bitters
Prepare the tea, dropping the absinthe and bitters into the hot mixture. This gorgeous, soft beverage has a distinctive sweetness with an added complexity from the bitters. Though it tastes great on its own, you can add a little cardamom syrup if you desire a little more sweetness.
10. Necromancer
What's Halloween without a little magic and wizardry? This absinthe cocktail might have a dark and mysterious name, but its flavor is anything but. Filled with light and fruity notes, it's the perfect way to cap off a night of thrills.
You'll need these ingredients:
3/4 an ounce of absinthe
3/4 an ounce of Lillet Blanc
3/4 an ounce of elderflower liqueur
3/4 an ounce of lemon juice
1 dash of gin
Add everything into a cocktail shaker and fill with ice. Shake and strain the drink into a coupe glass and add a lemon twist!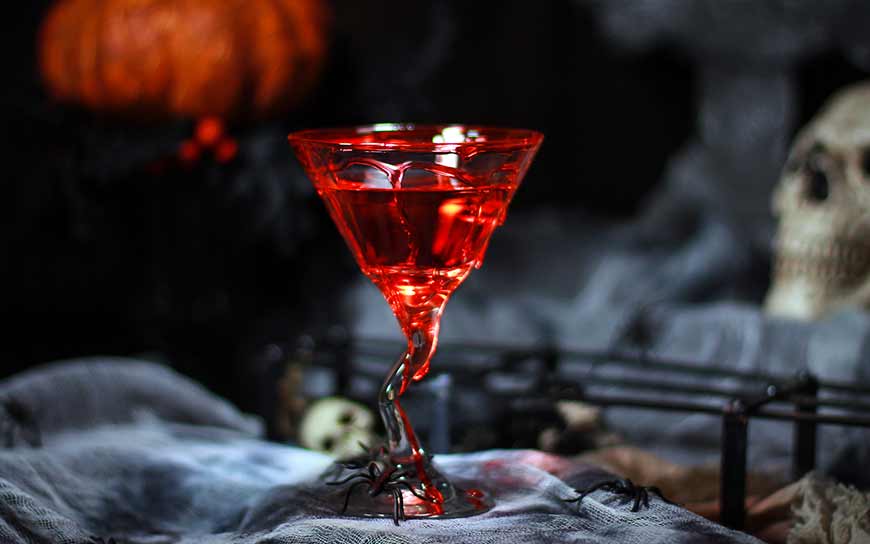 11. Corpse Reviver #2
There's an entire family of Corpse Reviver cocktails, all noted for their strong, potent ingredients that can help you shake even the most debilitating of hangovers.
Absinthe is the star ingredient in Corpse Reviver #2, and you'll notice that the measurements are delightfully simple: A dash of the Green Fairy and one ounce of everything else. It's perfect when your mind is too muddled to mess with specifics.
Here's what you'll need to gather:
A dash of absinthe
One ounce of gin
One ounce of Lillet Blanc or Cocchi Americano (dry vermouth)
One ounce of fresh-squeezed lemon juice
One ounce of Cointreau (orange liqueur)
Orange peel for garnish
Ice
Rinse a chilled cocktail glass with the absinthe. Then, pour the remaining ingredients into a cocktail shaker filled with the ice.
Give it a good shake, and pour the mixture into an absinthe glass. Garnish with the orange peel and try to shake off the night before.
Ring in Halloween With Absinthe Cocktails
Whether your idea of the perfect Halloween is a night alone hiding from the neighborhood trick-or-treaters or you're gearing up for a raging party full of seduction and depravity, you'll need a little liquid courage to power through.
These absinthe cocktails are indulgent, gorgeous and make a welcome addition to any celebration. Even after the candy and confetti are gone, you'll be whipping these up to the delight of your family and friends.
Looking for the perfect bottle to complete your at-home bar collection? Check out our selection of best absinthe liquors. Whatever your flight of fancy, we can turn it into a reality, one sip at a time.
Leave a Comment
Leave a Reply
Please
login
to post a comment.