The Green Fairy Flies its way Into the Kitchen
Absinthe is one of the most alluring, exotic, and mythical spirits in history. The anise-flavored drink, scented with aromatic herbs, goes back at least a thousand years.
It's the wormwood plant, Artemisia Absinthium, what makes absinthe a thing of legend. People used the plant for medicinal purposes since the ancient Egypt, but as a distilled spirit it's safe to say it became popular in the 18th century in Europe.
People soon found out that the medicine was quite enjoyable, even when healthy, and the drink immediately found a place in cafés, bars and bistros. It was enjoyed by the rich and the poor, and by the turn of the 20th century, it had caught on in all around Europe.
We all know excessive drinking can make you take bad decisions, and as absinthe was the drink of choice, it took the blame for all maladies in society. An all-out ban brought the green fairy to obscurity, but good things always come back, and we're now at the peak of absinthe's revival.
It's not just bartenders and mixologists who have welcomed back the green spirit and the ceremonial way of pouring it. Kitchens all around the world use it, not only as flair, but as a key ingredient in some of the most fabulous dishes the world has ever seen.
Many dishes can be seasoned with dried absinthe leaves: red meat, fish, oysters, escargot, omelets and cheese, they all benefit from the aromatic plant. Daniel Gélin states in 'Point de Vue, Images du Monde': "The taste of fresh leaves is too bitter to add to cooking juices. But, with it one can obtain very original scents when slow cooking certain meats: pork belly, shoulder of mouton, wild duck".
Chefs use absinthe in starters and all the way down to desserts. Hugues Droz, the youngest French chef ever awarded a Michelin, concurs that one can use absinthe leaves for "adding perfume to stuffings". He is putting the final touches on a plate of escargots topped with absinthe-infused sauce.
And absinthe it's not just in Michelin starred gastro-temples, but everywhere good food is appreciated. Below you'll find some of our favorite absinthe recipes, because you too can immerse yourself in the alchemical art of cooking with absinthe. Tell us what you think and share with us your own absinthe recipes in the comments below. Let's start our trip.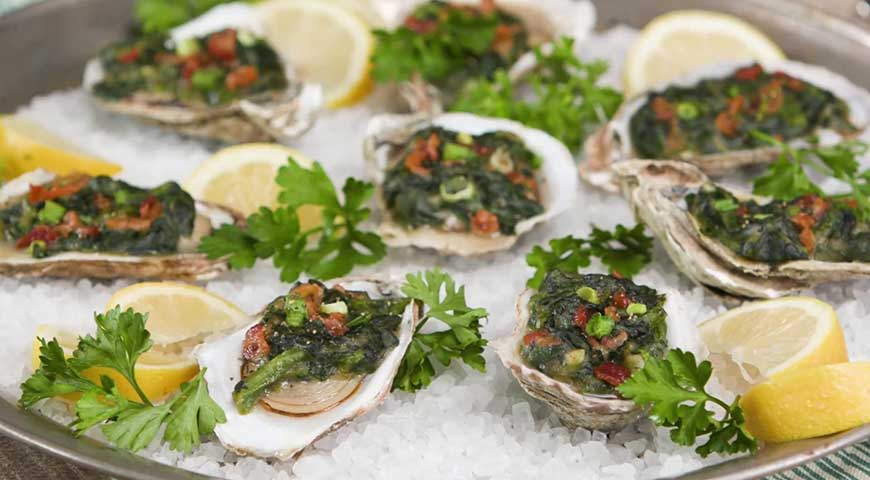 Oysters Rockefeller
This is a classic absinthe recipe. It was invented in 1889 by Jules Alciatore, son of Antoine Alciatore, the eponymous founder of Antoine's restaurant in New Orleans. This popular dish was reportedly named for John D. Rockefeller because it's so rich!
Here's what you need:
2 dozen oysters on the half shell, drained
4 pans rock salt
1 cup (2 sticks) butter, softened
3/4 cup finely chopped cooked spinach
6 tablespoons finely chopped watercress leaves
1/4 cup finely chopped fresh scallion tops
2 tablespoons finely chopped celery
3/4 tablespoon salt
1/2 tablespoon white pepper
1/2 tablespoon dried marjoram
1/2 tablespoon dried basil
1/2 tablespoon cayenne
1/2 tablespoon ground anise seed
1/4 cup absinthe
Combine all ingredients (for sauce) in a stainless steel or porcelain bowl and cream with a wooden spoon. Complete mixing with a whisk or blender at medium speed. Shape sauce into oval patties about 2.5 by 2 inches and 0.5 inches thick by scooping about two tablespoons of sauce and pressing it into your palm. Set on a platter and refrigerate while you prepare the oysters for baking.
Preheat the oven to 260 C (500F). Wash the oyster shells thoroughly and dry. Place a drained oyster on each shell and set them 6 to a pan on the rock salt. Cover each oyster with a patty of sauce and bake 14-16 minutes until the sauce bubbles and is lightly browned on top. Allow to cool 3-6 minutes before serving.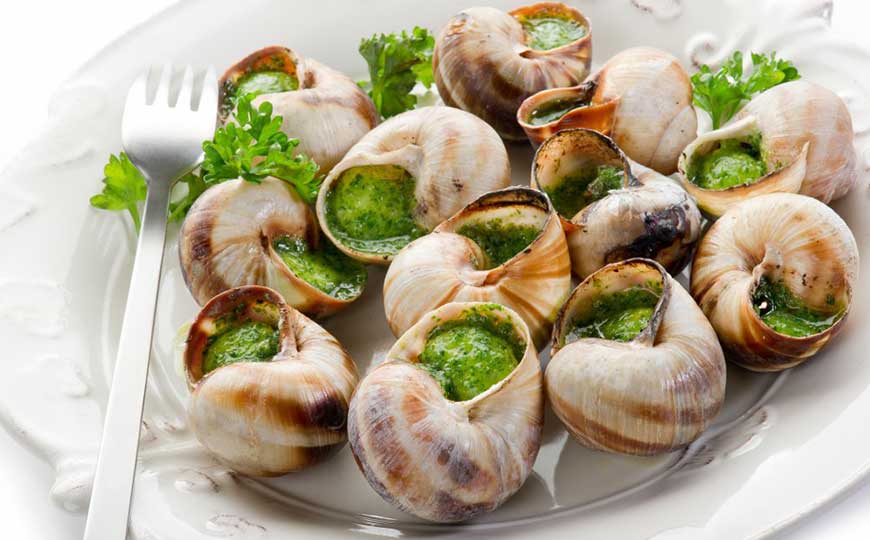 Garlic and Absinthe Butter (Great for stuffing Escargots!)
A classic 'beurre d'escargot' used for stuffing snails with a twist, an aromatic dash of the green fairy. This delicacy is impossible to resist. Each snail is rich and creamy, beautifully scented, there's nothing like it. The best part comes at the end, when all snails are gone, dip an artisan baguette into the sauce and enjoy!
The ingredients to buy include:
50 gr butter
2 gr shallots
3 gr garlic
5 gr parsley
0.6 gr salt
0.3 gr pepper
1 dash of absinthe
1 dozen prepared snails
Leave the butter at least 1 hour to soften. Chop the garlic and parsley finely together then chop the shallots, add salt and pepper to taste. Mix in the butter, then the absinthe until you get an homogeneous paste.
Fill the shells with the snails topped with a spoonful of butter. Lay the snails in their shells on an oven dish, taking care to place the shells upwards. Place in a hot oven, (250 C; 500 F) for 5 to 10 minutes. The snails are ready when the butter foams. Do not cook any longer or the butter will burn!


Absinthe Sorbet
Sorbet à l'absinthe was used as 'refresher' course during an 1889 dinner in honor of Gustave Eiffel's new tower. Today you can enjoy during your own celebrations. Ideal for hot summer days this icy treat has a special place on the table: this sorbet is a great way to clean your guest's palates between courses.
What you need:
50 cl water
300 gr sugar
Juice of one orange and one lemon
20 gr fresh absinthe leaves
10 cl absinthe
Blend 25 cl water and the sugar over a low flame for 10 minutes. Infuse the absinthe leaves in the syrup. Cool, remove the leaves and add the orange and lemon juice, and the remaining 25 cl of water. Freeze. Before serving, add the absinthe.


Absinthe No-bake Soufflé
This French, egg-based treat was invented in the early 18th century, at the same time as everyone enjoyed absinthe day in and day out. This no-bake recipe renders a delightful cold dessert that will keep everyone wanting more. Absinthe adds a Je ne sais quoi that will get you hooked.
Here's what you'll need to have on hand:
3 whole eggs
75 gr sugar
10 cl absinthe
1 packet vanilla sugar
25 cl Creme Fraiche (or whipping cream)
Beat the yolks for 5 minutes until it foams. Add the absinthe. In a second bowl, whip the cream. Combine the two. Beat the egg whites separately while slowly adding the sugar. Combine the two preparations. Line a mold with wax paper extending over the edges. Pour final mixture into a mold and freeze for at least six hours. Remove from the mold before serving.


Absinthe Ice Cream
Absinthe ice cream might just be the most refreshing, innovative and fun way to enjoy the green, naughty fairy. You'll need an ice cream maker, though, but it's one of the best investments you can make. The flavors, the freshness, the alcoholic warmth, this is a crowd-pleaser, guaranteed.
You'll need these ingredients:
1 cup whole milk (warm)
pinch of salt
2/3 cup sugar
2 cups heavy cream
5 large egg yolks
4 tablespoons absinthe
Toppings to taste
Heat the milk, salt and sugar in a saucepan. Prepare an ice bath by placing bowl in a larger container filled with water and ice. Set a strainer and pour the heavy cream into the bowl. In a separate bowl, stir the egg yolks gently incorporating warm milk. Cook egg yolk and milk mixture in low heat stirring until you get a thick custard. Strain the custard into the heavy cream and stir over ice until cool. Refrigerate for at least 4 hours.
Add the absinthe and pour the mixture into your ice cream maker. Add chocolate chips, crushed cookies, or any other topping you want.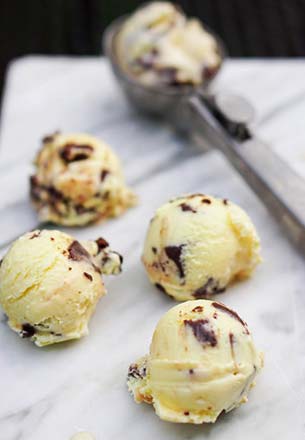 And now you have it, immerse yourself in the alchemical art of cooking with absinthe, the most alluring, exotic, and mythical spirits in history. Try these Michelin starred delicious meal recipes and tell us what you think in the comments below. And don't forget to share with us your own absinthe recipes!
Leave a Comment
Leave a Reply
Please
login
to post a comment.